In today's climate, out of hours protection is essential for any business or resident property, and having these doors is the best thing you can do as it acts as perfect deterrent to intrusion and theft. It can play a vital role in a security plan, and here at Shutters and Shopfronts, we are happy to say that we can provide these to commercial and residential premises in any size or nature.
Solid Lath Roller Shutters
Our ranges of solid design roller shutters are best for businesses where blanket coverage after working hours is required. In the past we have successfully installed many of these security roller shutters in office blocks, retail premises, council buildings, garages and other properties with an extremely high success rate so that you can be rest assured that choosing us is the best choice on every occasion.
Perforated Lath Roller Shutters
Our range of perforated roller shutters offers client maximum security and offer a see-through feature so that you can view the internal area, which is the reason in our experience why insurance companies favour this type of security doors. Our range of perforated security roller shutters incorporate the following standard specifications below.
Punched Lath Roller Shutters
We can manufacture and install a range of punch hole security roller shutters for a range of environments where they can be used to enhance out of hours security. The main curtain constructed from interlocking metal laths that have brick type cutouts allowing visibility which can showcase various retailer objects and all parts can be powder coated to any RAL palette colour in either gloss or matt finish.
Specification
Main Shutter Curtain
The roller shutter curtain are constructed from continuously interlocked galvanised solid design steel laths that are securely held in place by end-locks. The dimensions of each curved steel lath is 75mm which are finished with galvanised bottom rails that are roll formed into tee or L section types.
Guides
Vertical guides fitted on either side of the curtain are formed from rolled steel or fabricated depending on size and are affixed with suitable metal angles.
Endplates
Prime painted or powder coated steel plates of appropriate thickness relative to roller shutter size are attached above the guides to hold the structure into place.
Barrel
The barrel is constructed from seamless steel tube of suitable diameter to resist deflection and held in bearings or cups attached to the end plates.
Electric or Manual Operation
This type of roller shutter is available as a manual option for smaller shutters whilst a majority of these roller shutters are installed with a British manufactured electric tubular motor dependent on the size of the roller shutter.
Other Options
Roller shutters can be either operated thru the use of an internal rocker switch, an external key switch or remote control units installed with programmed fobs.
All roller shutters can be powder coated to any RAL colour which incorporates over 200+ colours with the final finish being either Gloss or Matt.
All roller shutters are installed with a manual over-ride function that can be operated using a winder or a battery backup option can be discussed onsite.
A range of locks including floor locks are available for enhanced security.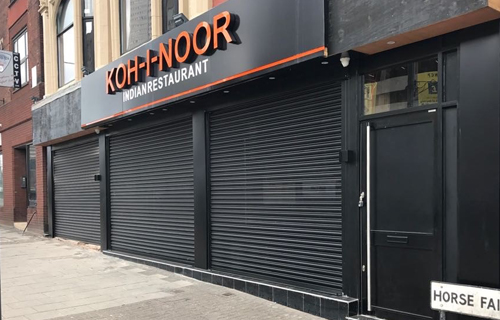 Why Shutters and Shopfronts?
Over 30 years of experience fitting shopfronts and shutters
We work Nationwide across the UK in all major cities and towns
High quality materials and workmanship using industry standard tools
Experienced team who work with retailers of all sizes
In house staff who check and verify work is up to our high standard
24/7 Repair and maintenance packages available on request