Growing rapidly in popularity toughened glass (frameless) shopfronts really does bring the modern character to your business. Toughened glass doors can be installed with rails and/or patch fittings available in a variety of stylish finishes.
Shutters and Shopfronts Ltd provide premium grade frameless toughened glass fronts; our products can be used for displays, showrooms, offices etc. Our pioneering products have led us to extend our range and provide clarity of vision, security and elegance coupled with our wide range of accompanying doors bespoke to each shop front.
Physically stronger and thermally efficient than normal glass, Toughened Glass is used for strength, thermal resistance and security. The toughened glassed is usually paired with our unique frameless glass shop fronts to give the possible look and match.
Benefits of Toughened Glass Shop Fronts:
Scratch Resistant Properties
Strong in Case of Vandalism
Council-Friendly
High Quality Product that is Visually Appealing
Thermal Resistance to improve Energy Saving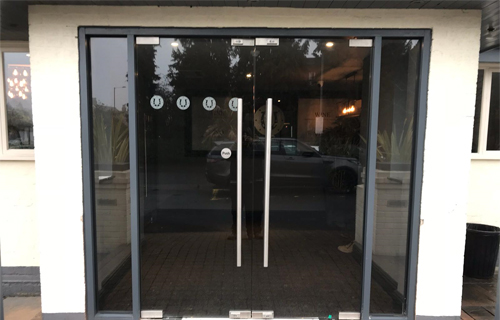 Frameless Shopfronts Gallery
Why Shutters and Shopfronts?
Over 30 years of experience fitting shopfronts and shutters
We work Nationwide across the UK in all major cities and towns
High quality materials and workmanship using industry standard tools
Experienced team who work with retailers of all sizes
In house staff who check and verify work is up to our high standard
24/7 Repair and maintenance packages available on request