Fire Exit and Security Doors
Our Security doors will provide rapid personnel exit as well as delivering better security advantages over traditionally constructed doors in timber, aluminium or PVC. Shutter and Shopfronts Security Doors are robust and strong, and when installed correctly can be extremely difficult to breech.
Our Security Doors come in various security options:
Standard Duty Single Door
Heavy Duty Single Door
Ultra Duty Single Door
High Security Ultra Double Steel Door
Standard Duty Double Steel Door
Choose our fire exit doors to increase your building's fire safety measures. Currently, commercial buildings, non-domestic & multi-occupancy premises are required to complete a fire risk assessment carried out under the Regulatory Reform (Fire Safety) Order 2005. Fire exit doors form an essential part of this assessment, ensuring occupants can safely escape in the event of a fire.
Unlike other steel fire exit door manufacturers, our doors are manufactured from galvanised steel for ultimate resistance to rust, then powder coated white. A range of alternative colours are available, along with necessary safety signs and stickers required to comply with building regulations.
Our Fire Exit Doors come in various security options:
Standard Duty Fire exit doors
Standard Duty Double Fire exit door
Security Fire Exit Door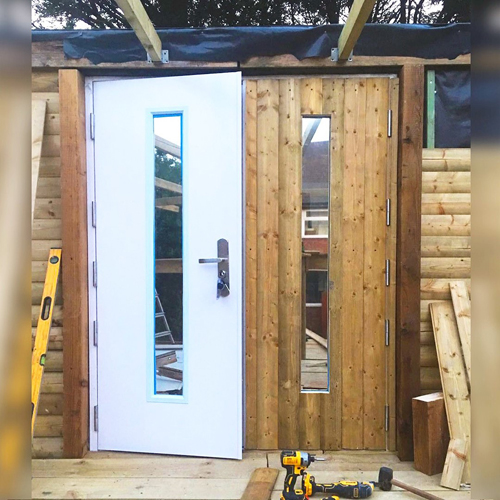 Fire Exit and Security Doors Gallery
Why Shutters and Shopfronts?
Over 30 years of experience fitting shopfronts and shutters
We work Nationwide across the UK in all major cities and towns
High quality materials and workmanship using industry standard tools
Experienced team who work with retailers of all sizes
In house staff who check and verify work is up to our high standard
24/7 Repair and maintenance packages available on request